Meet Randall & Sherry Reed
Randall Reed is the CEO and founder of the World Class Automotive Group, Starbase Aviation and Reed Enterprises.

The family, which also includes their three children: Steven, Shelby and Austin; is proud to own one of the largest, privately held, award-winning dealer groups in the country with locations in greater Houston, Dallas and Huntsville areas.
Automotive
For more than 20 years, Mr. Reed has been recognized as one of the top-100 mega dealers in the United States of America by Wards Dealer Business. Mr. Reed, along with his wife, Sherry have built a highly successful, Texas-based automotive dealership group on the foundation of managing from the ground up with over 35 years of automotive experience. He began as a diesel engine mechanic in the late 1970s and progressed through sales, finance and management. Mr. Reed leveraged hands-on training along with his many incredible business partners into creating this current award-winning, billion-dollar sales organization. Mr. Reed leveraged that hands-on training, along with his many incredible business partners; into the award-winning, billion-dollar sales organization it is today.
Award-Winning Dealerships
World Class Automotive Group's dealerships hold many top honors including the highly coveted Triple Crown, which is awarded to only an elite 30 dealers in the nation.  In order to be recognized, a dealership must receive all of Lincoln's top awards, which include: the President's Award for customer service; the Lincoln One Hundred Club, an honor based on vehicle sales; and the Lincoln' Customer Service Premiere Club.   Mr. Reed owns and operates the No. 1 selling Lincoln dealership in the Greater-Houston area holding that prestigious title for more than 12 years. The group is also the recipient of more than 30 top honor sales and service awards over the past 25 years.
Autotainment (au-to-tain-ment)
The Reeds and their partners transformed the automotive experience with their concept for "autotainment." This has been their evolution of the automotive purchasing process from goods and services into a distinctive experience-centered environment, revolutionizing the sales and service process for the new millennium.
Along with famed designer F. Michael Graves, Mr. Reed embarked upon creating one of the most unique automotive sales and service experience themed dealership, eliminating the negative connotation of "it's us against them" when purchasing or servicing a vehicle.  Many processes and environmental zones were eliminated or enhanced to substantially improve the overall experience many customers said they didn't like, such as too little parking to: things they wanted including play areas for kids and restaurant quality refreshments. The group hired the top specialists in the world to design and build their very distinct and successful autotainment mall dealerships.
Starbase Aviation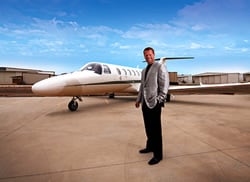 Starbase Aviation started in the late 1990s with one jet aircraft, partner Joel Brookshire and a burning desire to recreate Mr. Reed's incredible automotive story in yet another transportation-based industry.

Mr. Reed is the founder and CEO of Starbase Aviation, a leading jet charter, sales and management service that provides worldwide flight authorization and holdings. Mr. Reed has worked in the aviation business since 1999 and is an accomplished ATP-rated pilot. Along with a top-notch team of aviation professionals, Starbase Aviation is recognized as one of the industry's best and is the recipient of a platinum ARG/US rating.
Prestigiously Rated Aviation
Starbase Aviation has provided leadership and value to private jet travelers for more than a decade. During that time, it has received the prestigious Platinum rating by ARGUS. This is an accreditation earned by only 10 percent of jet charter operators. The Platinum rating is ARG/US highest level of quality ratings and is only awarded to air charter operators who have demonstrated successful implementation of the industries best safety practices for both operations and maintenance.
In addition, Starbase Aviation is IS-BAO (The International Standard for Business Aircraft Operations) certified by the IBAC (International Business Aviation Council). As an IS-BAO certified IBAC member, the company meets stringent requirements and upholds the code of best practices designed to help flight departments worldwide achieve high levels of safety and professionalism.
Star TreatmentStarbase Aviation has created a top-notch team of operational and flight coordinators to handle every detail of a customer's trip, from beginning to end. With its experienced team, clients can rest assured they are flying on the best quality aircraft at the best price in the industry. "Experience the star treatment" is not only a motto?it is a promise. With guaranteed pricing, 24/7 operations and professional flight coordinators providing concierge services, Starbase clietele are truly treated like stars.

Starbase Aviation is one of the most luxurious and innovative private jet service providers specializing in private jet charter, private jet membership and professional aircraft management, in addition to aircraft acquisitions and sales. To learn more about the company, visit www.StarbaseJet.com.
Giving Back to the Community
The Reeds believe it is crucial to give back to the communities in which they work and live. In addition to the World Class Automotive operation charitable endowment, which has made many considerable donations to multiple organizations; each of the Reed's businesses also work with local and national charities.

Growing up in an economically challenged home, Mr. Reed, along with his wife, know how important it is for businesses to extend opportunities to area families and youths in order to preserve and strengthen local communities.

Each company sponsors and participates in local events, various school fundraisers, supports a variety of programs for children and families and much more. "When we all give a little, we can help a lot for both the future of our kids and our community," said Mr. Reed.
Keys to Success
Mr. Reed has a simple equation for success: hard work, honesty and treating people fairly. The family-owned business instills solid philosophies, beliefs and morals throughout all facets of its operations.

Working at the young age of 12, a foundation for his strong work ethic and appreciation for every hard-earned dollar was instilled. Once in the automotive business, he had to work his way up the ranks, from service technician and salesman  all the way through managing partner and subsequently an automotive dealer.

"The diversity of my experiences have allowed me to have a real understanding of every facet of a business and how to create a better customer experience," said Mr. Reed. "At the end of the day, that is what is about how well we help our customers."
Gratitude
Ultimately, he attributes that success to all of the loyal consumers. "There are thousands of customers to whom Sherry and I owe everything in business," he said.  "God has blessed us. We've been married and successful in business for well over 25 years, have three wonderful children and get to work with amazing people everyday.  I am very thankful."